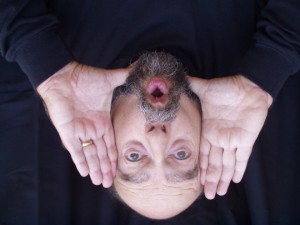 Recently, on the occasion of Bernie De Koven publishing A Playful Path (a book about, in part, how we can bring out the play throughout all aspects of our life) I contacted Bernie to talk about play and museums and, well, all sorts of stuff. (This is the second half of the interview; the first can be read here).

At a certain point towards the end of your book you talk about learning by playing with something, which I think of as play as pedagogy. You know, we use play all the time in our type of work with young people, as an icebreaker to get them to know each other, to get warmed up and adjust from going from sitting in a classroom to getting to be in a more informal learning environment. We also use games, which might offer a playful way to connect with content. But neither is play as pedagogy, which in your book I read as learning by playing with something, and what play affords for learning.
So when you talk about our use of Minecraft to teach science I think what you are noticing is precisely that. We are trying to bring playfulness into the learning experience because of how it can connect youth with each other, with us adults in the room, and with what's inherently exciting and interesting about the science content we are trying to introduce to them.
Every area of inquiry that we engage in comes from the fact that we enjoy playing with that particular thing. Why do people become paleontologists? Because of the puzzle of it, and the reasoning that goes on. It's just so much fun for them. As an educator, it's not like you are trying to make paleontology fun, it's that you are trying to bring the fun to the surface so it's more perceptible.
When I wrote The Well-Played Game, the idea was that even in the most competitive games there are, in the most professional games that you can imagine, there is such a thing that transcends the score of the game: the quality of the game. Bill Russell, the Captain of the Boston Celtics, wrote a book called Second Wind, Memories of an Opinionated Man. In the book he talks about that experience. They were playing another team and it was for the trophy (that's what you play for in basketball, a trophy, right? or some kind of big thing that everybody wants to have but only you can have it if you are good enough? And they were playing one of those games).
His team was just playing brilliantly but they were up by like 30 points, and right in the middle of that he felt, like, "Wow, I wish those other guys were playing better, because it's just not fun. It's not a good game. I know we are playing well, but we are not really playing well together.  We are getting sloppy. When we really are playing well, man, we would become like supernatural beings. Not only are we playing well when the other team is playing well, but even the fans can feel it.  We are all at a different level of consciousness, because we are playing so well together." The reason why I wrote The Well-Played Game is because we tend to believe that only the best players can every experience that kind of thing.
Well, the fact is anybody can experience it if they are able to adjust the game to the level of their skill, rather than to try to adjust their skill to the level of the game, which they can't because they haven't devoted 40 years of doing nothing but playing that game professionally. But they can make it easier. They can make it more doable. They can find a way to play it, so it's fun. And that's the point of The Well-Played Game and that's the same point here in The Playful Path: if you are focusing on creating something where you can play, it gives you access to the fun that's inherent in being alive, in having a mind and being with other people, and that becomes a path into the very core of what makes you alive, of what makes you human, of joy.
That's what I wrote about that book for.
What does a Playful Path look like in a museum?